Reviews of Edith's Improv CDs
AANDERUD HECHT LETTNER LIVE IN VIENNA 2011
Sometimes you just have to leave it to chance or at least lend a little helping hand. It's not likely it could have been planned beforehand that this trio would meet for this concert. But luckily, it did happen. The Mexican-Austrian Tequila melange works beautifully, from the first sound. They only meet on stage, start without much ado and yet they are focused and harmonious right from the first tune. Intensive interaction leads to long melodious arcs and with his artful, strongly reduced style of playing,pianist Aanderlud leaves much space for his colleagues which is congenially filled by Lettner on the saxophones (damn good) and drummer Hecht (where has he been hiding till now?). Patterns are tied ever closer in mesmerising circular motions, beautifully played titles (Game I-IV) are charged with ever more tension until they eruptively discharge in the finale. The exotic looking sculpture named Lithonium is a stone instrument developed and created by Uli Scherer together with sculptor Peter Dörflinger. Here, it is used as an additional percussion instrument with its own special aura of sound. A great recording that merits a lot of listeners. Here's hoping it won't be the last encounter of Lettner, Aanderud& Hecht.
mitter, freiStil Magazine April/May 2012 (translated from the original German)
On May 31 Vienna's 3raum-Anatomietheater (3room-anatomy theater) will host an immensely interesting and exciting Austro-Mexican coming together in the spirit of improvised music. On that night three musicians will meet who know how to roam the field of contemporary jazz in a highly innovative manner: pianist Mark Aanderud, drummer Hernán Hecht and saxophonist Edith Lettner. The audience can expect a musical dialogue between virtuoso play, witty playfulness and surprising turns.
What makes the whole thing so exciting and unique is the fact that three instrumentalists with completely different musical backgrounds meet hereand maybe share only in the interpretation of jazz as a field that is open on all sides. In their playing, Mark Aanderud, Hernán Hecht and Edith Lettner develop, entirely independent of each other, their own multifaceted sound languages in which elements of various stylistic genres meet and are brought into consonance. An approach that leaves ample room for improvisation. The two Mexicans and the Austrian have proven many times in various projects and formations that they know how to make excellent use ofthat room.
Once musicians of such distinction unite, you can confidently expect that a creative and tonal chain reaction is set into motion that is hard to control. Together, Mark Aanderud, Hernán Hecht and Edith Lettner will try once again to explore limits, to push them back in order to afford themselves and their audience new and unfamiliar perspectives and approaches to the musical genre of jazz. You can expect a musical experience dedicated to the high art of improvisation.
It's nearly impossible to predict in which direction the three musicians intend to go. Their musical understandings and approaches just seem too diverse at first glance. And this is precisely why the encounter of Mark Aanderud, Hernán Hecht and Edith Lettner promises to be highly interesting. Professed jazz aficionados will not want to miss this concert at any cost as they can expect a sound experience that is varied in style and mood and exceedingly multifaceted.
mt, Music Austria Magazine May 30, 2011 (translated from the original German)
The Austrian Saxophonist Edith Lettner is a master of the expressive attack, but can also accompany her fellow Mexican musicians just as serenely with lyrical legato. One is glad, however, when she returns to her full power and emotional playing, because the piano sometimes does not give enough direction (as they say in skiing).
The four live takes are titled as Games 1-4 and remind one of playing situations, in which the rules are suddenly changed: Groove now! And in the atmospherically dense drumming of the final take, Hernán Hecht proves to be a secret story teller (Artdialogue)
KN, Falter Magazine issue 21/12 (translated from the original German)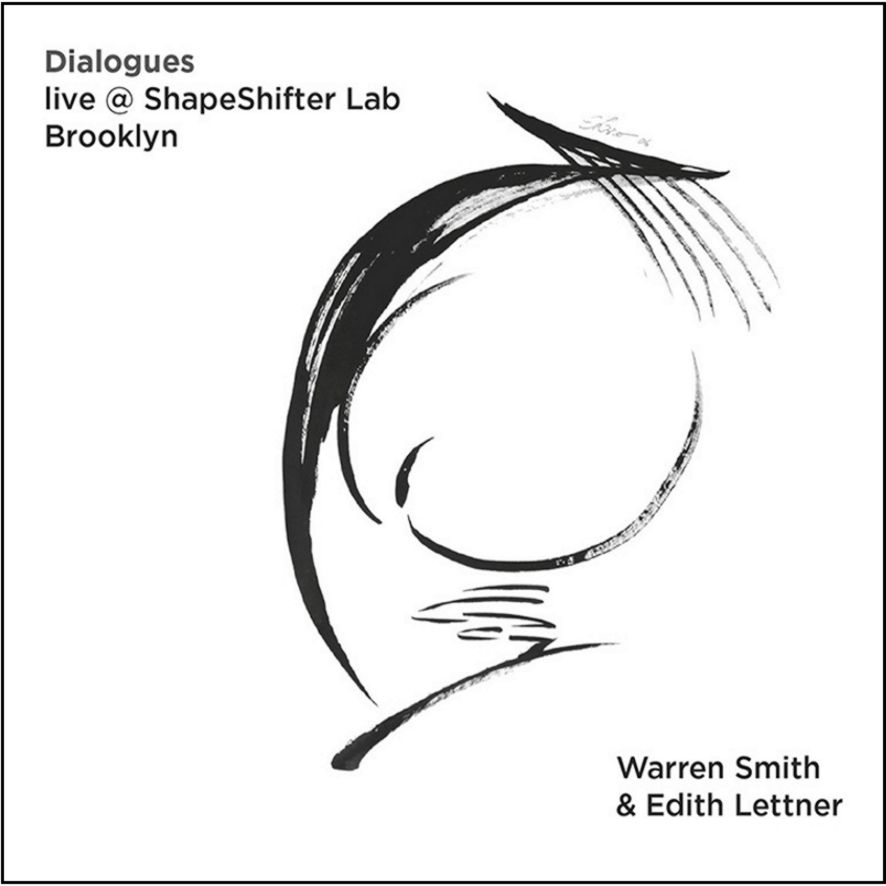 Dialogues live @ ShapeShifter Lab Brooklyn
The eighty year old percussionist and vibraphonist Warren Smith can confidently be called a jazz legend. The list of musicians with whom Smith has played on stage during his career is nothing but impressive: Miles Davis, Gil Evans, Charles Mingus, Aretha Franklin, Nina Simone, Nat King Cole, Sam Rivers, Janis Joplin, Joe Zawinul to name but a few. Undoubtedly it's a great pleasure and an actual honor for every musician of a younger generation to work together with an artist who can draw from such a wealth of experience. As it was for Upper-Austrian saxophonist Edith Lettner who met Warren Smith in New York. The result of this musical dialogue, which was recorded at the beginning of the year in the ShapeShifter Lab in Brooklyn, is now available on CD. The two musicians are united in their unrestrained curiosity and openness which have marked their respective musical work. Edith Lettner, who is not just a musician but also a painter, has composed theater and film music and has been studying African and Oriental music. Consequently, on the album Lettner not only plays the alto and soprano saxophones but also the Armenian national instrument, the duduk. In their eight "dialogues" the two artists give free rein to their improvisational ideas and create moments between lively intensity and meditative contemplation.                         
esox, Concerto Magazine issue 5/14 (translated from the original German)
On this live recording, saxophonist Edith Lettner (who also plays the Armenian duduk) presents herself in an exceedingly clairaudient improvisational union with veteran percussionist Warren Smith. What you can expect is improvisational music on a high level. Lettner proves to be a sensitive and virtuoso instrumentalist who doesn't dread leaving her comfort zone while she trenchantly interacts with her partner Smith. Their range covers careful touches to swirling cascades of notes, occasionally suggesting a penchant for small intervallics, many times even in parallel or jumbled in lively alternation. It's a treat hearing how Lettner can get persistently wound up in small motifs and particles while she continuously refines them as if she were possessed (in the most positive sense of the word, naturally). Smith is a fabulous conversationalist and you wouldn't expect anything else from such an accomplished player. They draw on all kinds of sources, cis and transatlantic as well as others and yet they always remain true to themselves, thankfully. The result is definitively worth listening to- even very good. Thank you for the dialogue!
bertl, freiStil Magazine isuue 56, Sept-Oct 2014 (translated from the original German)
If there is one accolade in music, then for Upper-Austrian saxophonist Edith Lettner it surely must be her collaboration with American jazz legend Warren Smith. That's because this man, during his long career, has played with really all music legends. Miles Davis, Gil Evans, Charles Mingus, Aretha Franklin, Nina Simone, Janis Joplin are just a few famous names on the long list. Together with Edith Lettner the American vibraphone virtuoso embarks on an exciting expedition through the wide and multifaceted world of jazz including some detours to other styles. You can come along on that journey on the recent live CD "Dialogues" which was recorded in the ShapeShifter Lab in Brooklyn, New York.
An Upper-Austrian reminiscent of Africa
Both Warren Smith and Edith Lettner are well known for not strictly sticking to prescribed stylistic definitions when it comes to questions of style. Instead, they strive to think outside the box of traditional jazz time and again. In her numerous other projects, the Upper-Austrian saxophonist, for instance, shows her passion for the sounds of Africa or South America which she artfully integrates in her own music. And it's exactly this openness, curiosity and love of experimentation that unites these two who can translate these attributes into constantly vibrant, eminently lively and very eclectic musical language.
A perfectly working tandem
In their pieces, Edith Lettner and Warren Smith throw ideas at each so confidently that one might think they had been playing together on stage for decades. There is an almost blind understanding in the interaction between these two as to the direction the other is about to take at any given moment. As a consequence, the duo's performance remains always unpredictable and so the musical suspense stays at a high level from the first sound till the last. You never quite know where the tandem is taking you and at what musical climax, after numerous wonderful melodious journeys and as many surprising turns, you will end up. A beautiful and really harmonious live album.
Michael Ternai. Music Austria Magazine April 8, 2014 (translated from the original German)
This recording of persistent dialogues of saxophonist Lettner and percussionist Smith runs a bit too long. Curse of the CD. The two are not to blame for loquaciousness, they also bring some variation into their conversations by changing combinations. Alto, soprano and duduk meet Smith's profusion of instruments, which shows relaxed and feverish sovereignty.. Lettner impresses with her original conception and the avoidance of simple ways; (Artdialogue)
DMK, Falter Magazine issue 12/14 (translated from the original German)